Fact Sheet:

Soft Shell Crab
Appearance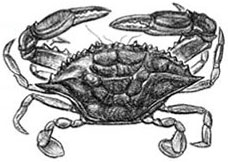 Scientific Name
Callinectes sapidus
Market Forms
Live, fresh or frozen.
Size
Soft-shells are marketed by size with the largest commanding premium prices. They are measured across the back, point-to-point. Mediums - 3 1/2 to 4 inches Jumbos - 5 to 5 1/2 inches Hotels - 4 to 4 1/2 inches Whales - over 5 1/2 inches Primes - 4 1/2 to 5 inches
Taste/Texture
Sweet and tender with a mild, tangy flavor.
Seasonality
The soft-shell is the blue crab in its molted state.The molting process means an abundant supply of soft crabs from late spring to early fall, with May through September ranking as the most productive months. They are available frozen year round.
Nutritional Value
83 Calories (100 grams, 3.5 oz.) 18.1% Protein 1.1% Fat .32% Omega-3
Folklore
The soft-shell season is traditionally marked with the first full moon in May.At that time, the blue crab begins its molting season to accommodate its summer growth.The actual shedding of the shell can take anywhere from one to three hours, after which it must be removed or the hardening process will continue, reducing the quality of the soft-shell crab.
Harvesting
Soft-shells are harvested in their peeler stage in peeler pounds or pots and transferred to shedding operations where they are monitored around the clock.
Safety/Quality
Virginia's waters and products are regulated by federal and state agencies including the FDA, the Virginia Department of Health, the Virginia Department of Agriculture and Consumer Services, the Virginia Department of Environmental Quality, and the Virginia Marine Resources Commission, insuring that only safe wholesome seafood reaches our customers.