Soft-Shell Crab Stack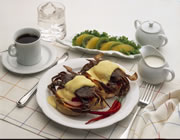 Ingredients
8 Soft-shell crabs, cleaned
3 tablespoons Butter
4 English muffins, split, toasted and buttered
8 slices Cooked ham, 1/8-to ¼-inch thick
8 slices Ripe tomato
1 ½-1 ¾ cups Hollandaise sauce
4 Egg yolks
3 tablespoons Lemon juice
¼ teaspoon Salt
¼ teaspoon White pepper
1/8 teaspoon Cayenne pepper
1 cup Butter
Instructions
Prick legs and claws of each crab with the tines of a fork to prevent popping. Sauté in butter about 4 minutes on each side over moderate heat.
To assemble: Place toasted English muffin halves on plate. Top each with ham, then tomato and cooked crab. Spoon about 3 tablespoons hollandaise sauce over each. Serve immediately.
Hollandaise Sauce
Place egg yolks, lemon juice and seasonings in a blender. At medium speed, very slowly add 1 cup butter which has been melted to bubbling but not browned. Blend an additional 10 to 12 seconds until sauce is thickened and smooth.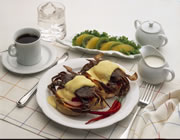 Recipe Details
Yield/Servings: Serves 4
Nutritional Information
Total Calories: 661
Calories from Protein: 22
Calories from Carbohydrates: 16
Calories from Fat: 60
Calories from Saturated Fat: 32