Cornmeal Crusted Croaker on Asparagus with Fresh Tomato Sauce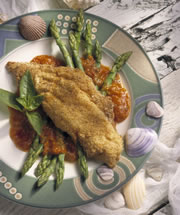 Ingredients
Large Croaker fillets (or other fillets)
Flour
2 Eggs, beaten
Cornmeal
Canola oil
1 lb. Fresh asparagus, woody ends removed
Olive oil*
Salt and pepper
Instructions
Dust fillets in flour. Dip in beaten egg and then in cornmeal. Heat about one half-inch oil in skillet until hot, but not smoking. Fry fillets for about one minute per side until they are golden brown. Place on paper towel and keep warm in oven until serving time.
Cook asparagus briefly until crisp tender in covered skillet with ½ inch boiling water. Drain asparagus and reserve one fourth cup cooking water, toss with olive oil, season with salt and pepper and set aside.
*Oil based on 2 tablespoons
Fresh Tomato Sauce
2 Ripe tomatoes
2 teaspoons Butter
2 Shallots, chopped
¼ cup White wine
¼ cup Asparagus stock or canned vegetable stock
4 or more leaves fresh Basil, chopped, or ½ teaspoon dried
1 tablespoon Olive oil
Salt and pepper
Stem and chop tomato. Heat butter in saucepan and add shallots. Cook until soft. Add wine and reduce over heat until about 1 ounce is left. Add tomato to pan and ¼ cup asparagus water. Bring to a boil. Simmer for about 10 minutes to reduce sauce until thick. Purée with basil. Season with salt and pepper. Finish by whisking in olive oil.
To serve: On four warmed plates, divide the asparagus into four servings. Lay cornmeal encrusted croaker on asparagus and spoon tomato sauce around the asparagus.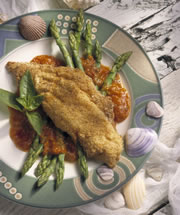 Recipe Details
Yield/Servings: Serves 4
Nutritional Information
Total Calories: 414
Calories from Protein: 120 (30g)
Calories from Carbohydrates: 75 (19g)
Calories from Fat: 219
Cholesterol: 167mg
Sodium: 651mg